Customer Service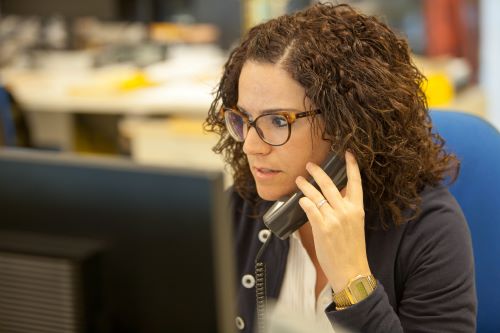 Do you need help?
Choose a location
to view contact options
CELO Chile

CELO Croatia

CELO France

CELO Germany

CELO Hungary

CELO Latvia

CELO Morocco

CELO Poland

CELO Romania

CELO Slovakia

CELO Spain

CELO Sweden

CELO UAE

CELO USA
Why should you use ETA approved anchors?
Published: 2021-08-11 | Updated: 2023-11-09
Working in the construction industry can be a risky business, which is why it is important that projects are well designed and built properly. 
Anchors are often used for safety critical applications. For those applications the reliability of the fixing is crucial and for those applications the usage of a high-quality, safe and extensively tested anchor is a must; an anchor shall have an ETA (European Technical Assessment) if used for applications in which the failure of an anchor could result in:
Collapse or partial collapse of a structure
Cause risk to human life
Lead to a significant economic loss.
Therefore, it is important to have an understanding of the guidelines, what ETAs are and to follow best practices.
1) What is an ETA assessment?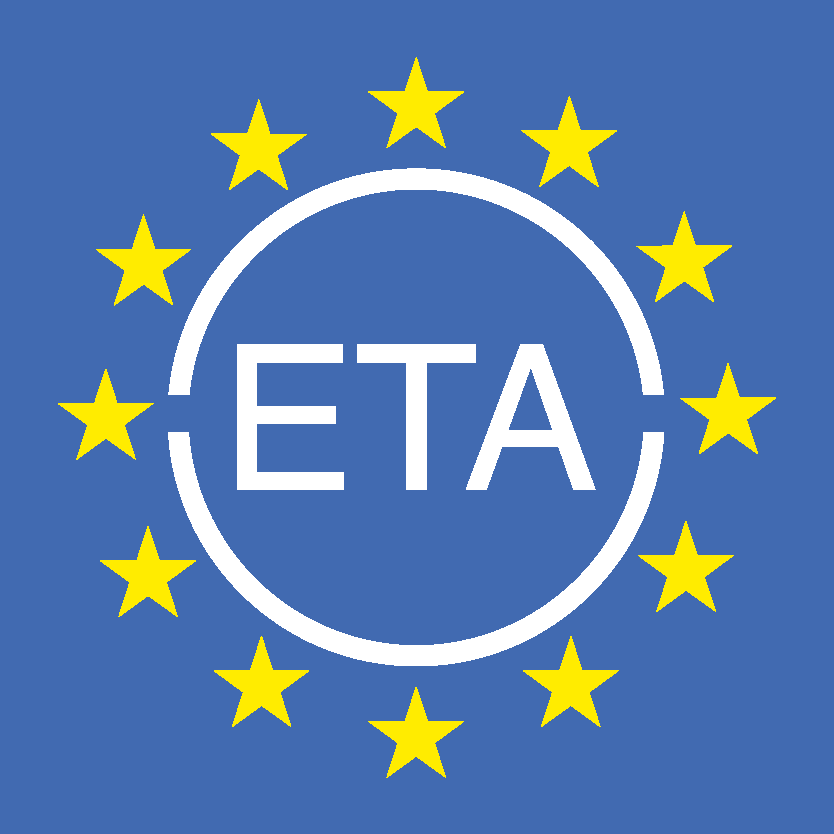 ETA stands for European Technical Assessment (former name: European Technical Approval) and is a widely accepted as confirmation of technical suitability of a building product in accordance with the Construction Products Regulation (CPR) in the member states of the EU. 
" [...] The verifications and assessment methods on which this European Technical Assessment is based lead to the assumption of a working life of the anchor of at least 50 years [...]."
Recently, there have also been ETAs that describe the working life of an anchor as 100 years. 
2) How do products get an ETA assessment?
To obtain an ETA, a product must go through an extensive testing program that is measured against test criteria to determine its suitability for use in a specific application. 
A European Assessment Document (EAD) defines the tests a fixing product must pass to achieve the ETA. The EAD can be customised depending on the product being tested and will contain information about the product, its intended use, how it will be assessed and how the tests will be performed. 
The following example of an EAD test program (EAD 330232-00-0601 for "Mechanical fasteners for use in concrete"). As you can see, the anchor must pass extensive tests:
As soon as the tests defined in the EADS are successfully passed, an ETA can be issued on the basis of this EAD. 
According to the Construction Products Regulation, the manufacturer is then obliged to draw up and make available a declaration of performance (DoP) in which the essential performance characteristics of the product can be seen. Furthermore, the manufacturer can and must then provide a CE marking for the product. 
3) Why is an ETA important for fixing construction?
An ETA approved anchor should be used if there is a high risk for: 
 Life and health 
 Security and order 
 Natural resources in the event of failure 
which are all factors of concern in the construction industry. 
By using ETA approved fixings you are guaranteeing the maximum level of safety and reliability. You know that the anchor will not fail if it has been installed as outlined in the ETA, and that detailed instruction will be provided to achieve this. The performance values of the product can also be relied upon, as you know that the values of the product you are using will be the same as the ones tested.
4) What ETA-approved solutions can CELO offer?
CELO offers a wide range of frame fixings, mechanical anchors and chemical anchors that have ETA approval. Our anchors are suitable for various applications, coming in many different sizes and being able to hold different load values. Here are some of our most popular anchors: 
If you have any questions about our product range or ETAs then you can contact our expert technical support team who will be happy to support you, or to view more of our ETA approved products you can download our leaflet for ETA-approved fixings for cracked concrete.
5) What types of ETAs exist?
The ETA always indicates the substrates in which the anchor may be used according to the positive tests carried out, e.g. ETA for concrete and masonry (Multifunction frame plug MFR), thermal insulation composite systems (Insulation fastener IPD), and as a wood fastener (Chipboard screw VELOX). 
In the ETA, a statement is also always made about the intended use, such as "suitable for use as a multiple fastening of non-load-bearing systems in cracked concrete" (Suspended ceiling anchor DA). 
Metal anchors and chemical anchors are divided into options from 1-12: 
Option 1 anchors have passed the most extensive tests, thus allowing for the widest range of applications, including use in cracked concrete. 
ETA Option 1, therefore, means that the product can be used in cracked and uncracked concrete. Option 12 anchors have the smallest area of application and are only suitable for uncracked concrete.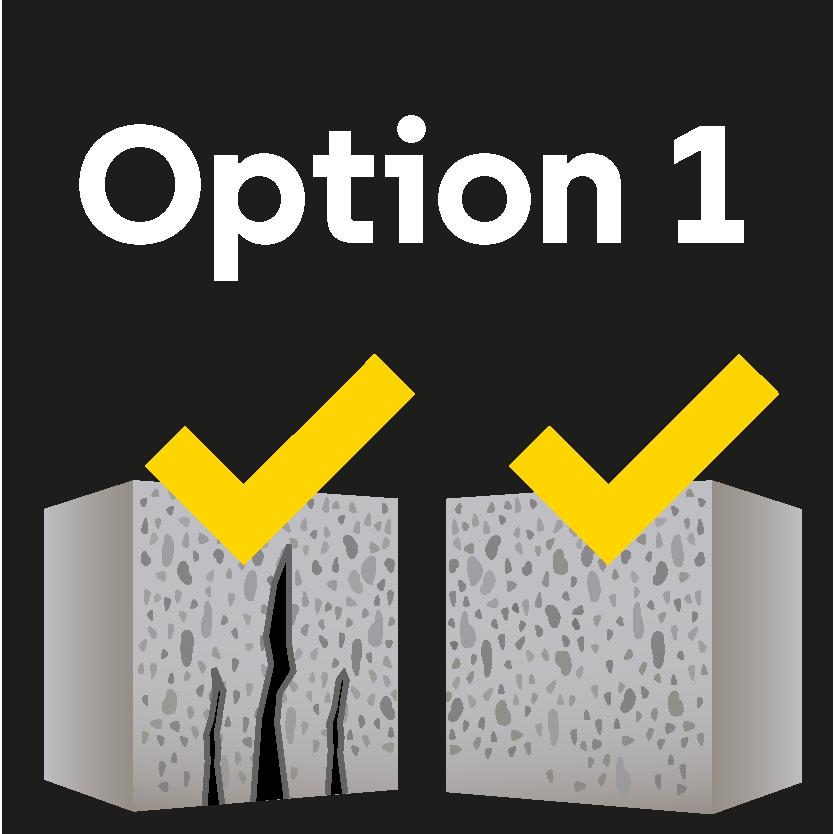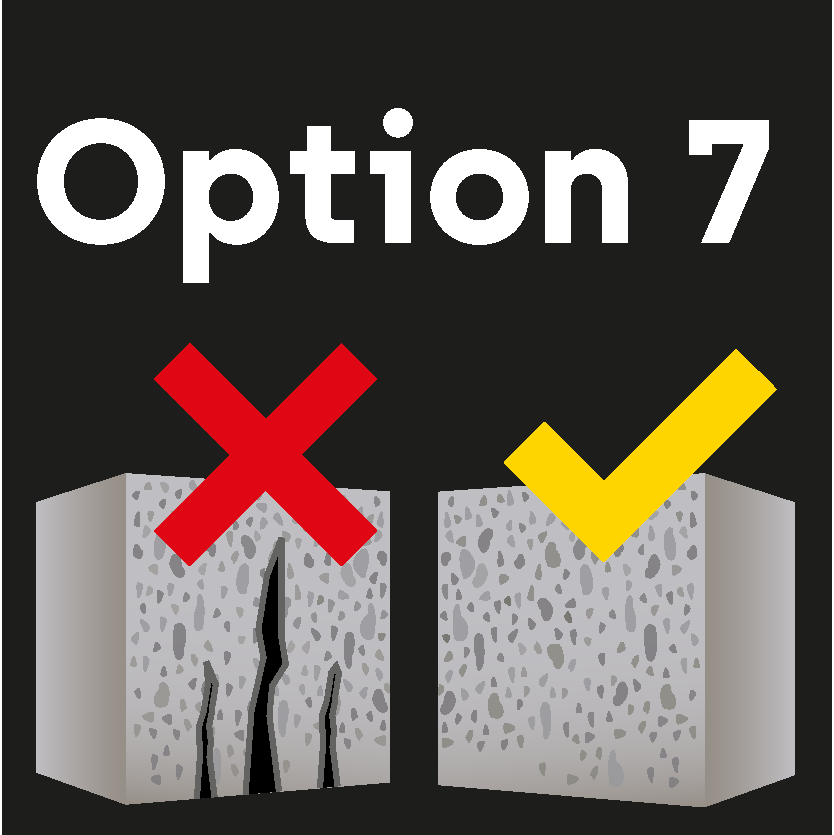 6) ETA frequently asked questions
Not necessarily, but usually Option 1 anchors are seismic action tested. The seismic resistance values (C1 and/or C2) you will find in the ETA. We indicate this with a seismic symbol.
The product is suitable for use as an anchor subjected to seismic loading according to the European Technical Approval/Assessment.
Not necessarily. For anchors that can be used in cracked concrete, e.g. anchors with option 1, you will usually find fire resistance values in the ETA that are theoretically calculated on the basis of a technical rule. These values are rather conservative. However, practical tests can also be carried out in a special oven to determine fire resistance values for anchors. 
If theoretical or practically determined values are available, we mark this with a fire symbol. The number after the F stands for the duration in minutes during which the fixing retains its function under fire stress (with decreasing performance).
In addition to the ETA-approved fastening solutions, we have products with further approvals and tests. The ProtectFIX® window securing system, for example, has the burglary resistance class RC2 and is a tested mounting system for fall protection according to the ETB directive (components that secure against falling).
The BTS M concrete screw has a general building authority approval for building products issued by the DIBt Berlin, as the highest German building authority.
Many of our non-ETA-approved products are distinguished by further national tests (e.g. by the IFBT- Institute for Facade and Fastening Technology) or are suitable for special applications such as the attachment of sprinkler systems to concrete ceilings or fastening to hollow prestressed concrete ceilings. Chemical anchor systems have a classification for ecological, low-pollutant and low-emission construction. Other products are made of high-quality materials such as glass fibre-reinforced polyamide or A4 stainless steel.
Technical changes to products or illustrations reserved. 
CELO Fixings assumes no liability for the accuracy of the information provided