Customer Service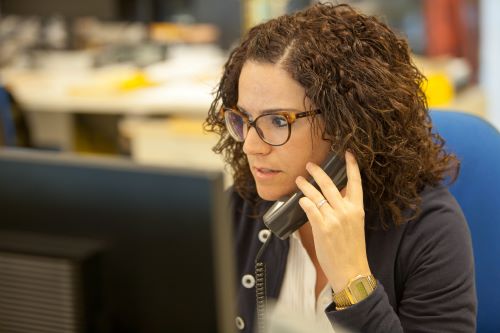 Do you need help?
Choose a location
to view contact options
CELO Chile

CELO Croatia

CELO France

CELO Germany

CELO Hungary

CELO Latvia

CELO Morocco

CELO Poland

CELO Romania

CELO Slovakia

CELO Spain

CELO Sweden

CELO UAE

CELO USA
ResiTHERM® 12 joins ResiTHERM® 16
The high demand since the market launch of ResiTHERM® 16 in April 2022 clearly shows that the innovative ETA-approved distance mounting system for ETICS insulated façades is something special.

Now the range is being expanded to include the smaller variant with M12 threaded rod: ResiTHERM® 12
Video: The innovative products ResiTHERM® 16 and ResiTHERM® 12 are your solution for spacer installation of heavy loads on the insulated façade without thermal bridging - regardless of whether the wall consists of solid building materials such as concrete or aerated concrete or hollow building materials such as perforated bricks.
When do you need a distance mounting system?
Distance mounting systems enable the mounting of heavy loads on the ETICS-insulated façade.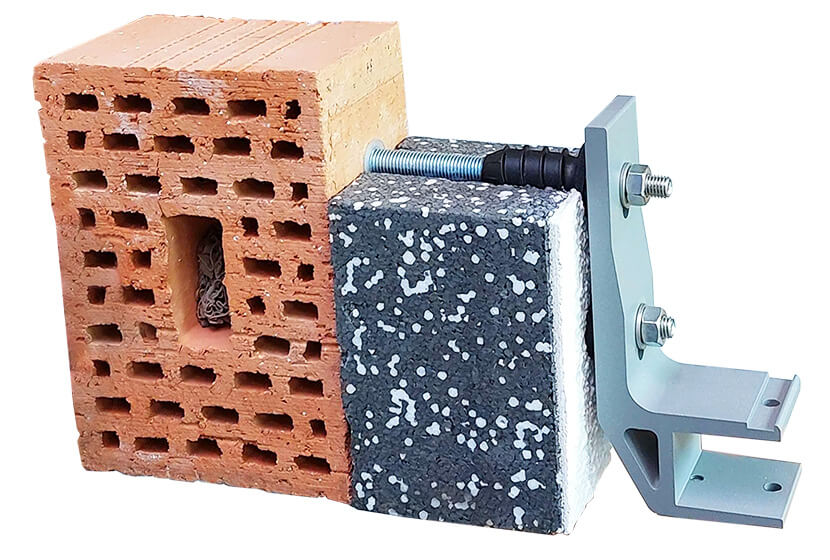 The assembly of heavy loads such as
• French balconies
• canopies
• satellite systems or
• air conditioning units
on an ETICS (External Thermal Insulation Composite System) insulated façade is a challenge.
Although energy-efficient solutions such as insulation anchors or insulation screws exist for fastening lighter loads directly into the external insulation, the insulation alone does not provide enough support for heavy load installation.
Distance mounting, spacer mounting or stand-off installation now means that the fastening solution bridges a distance that does not offer enough support for installation (in this case the thermal insulation) and anchors itself securely in the underlying wall.
Faster distance mounting on concrete, aerated concrete and solid brick with ResiTHERM® 12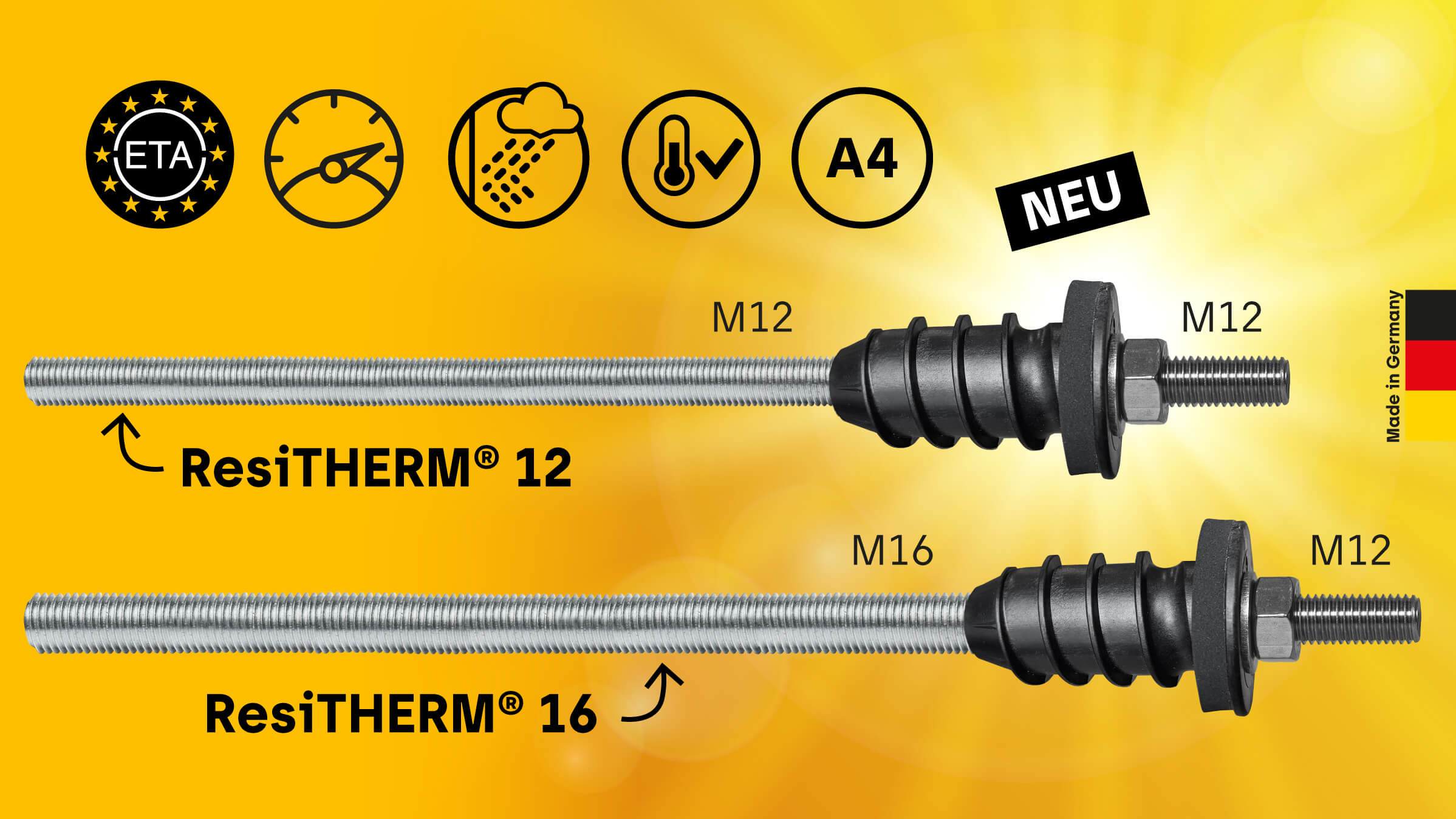 Like ResiTHERM® 16, the new product ResiTHERM® 12 is ETA-approved, driving rain-proof according to DIN EN 1027 and quick to install. The two innovative products differ in the diameter and length of the threaded rod in the wall (M12 for ResiTHERM® 12 and M16 for ResiTHERM® 16).
Your advantages with ResiTHERM® 12:
New! ResiTHERM® 12 - available in 4 variants
The four new types ResiTHERM® 12 are available in a practical set of 2 or in a bulk pack of 20.
Furthermore, the threaded rod lying in the wall is either galvanised or made of corrosion-resistant stainless steel A4. Select your type: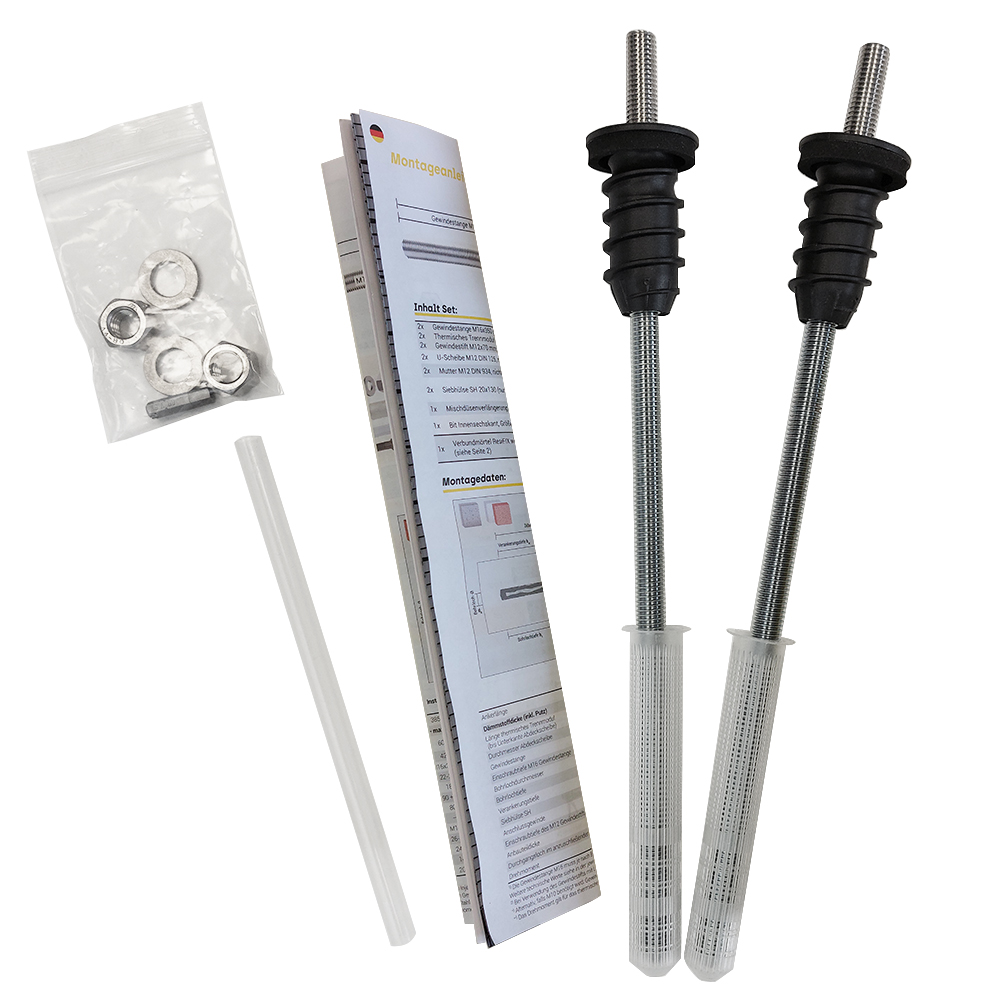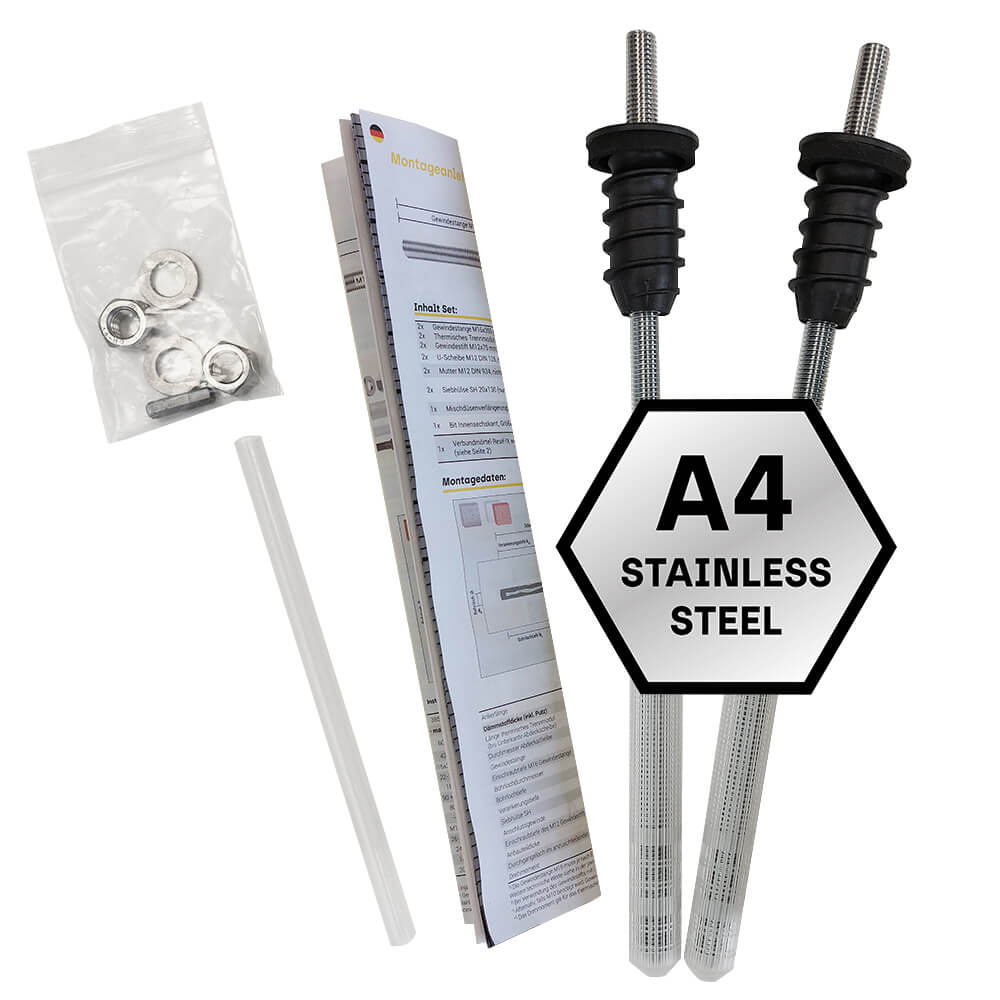 A4 stainless steel threaded rod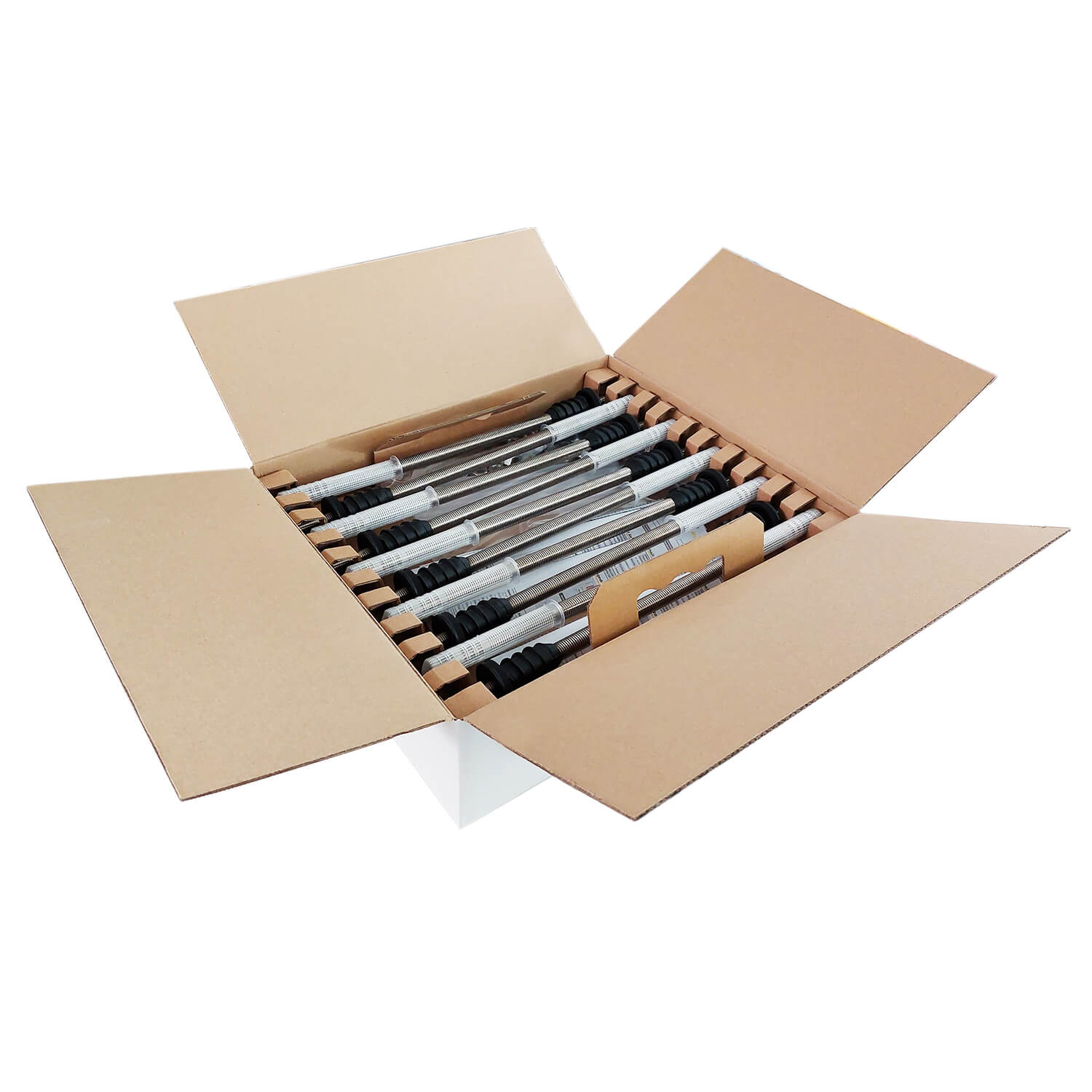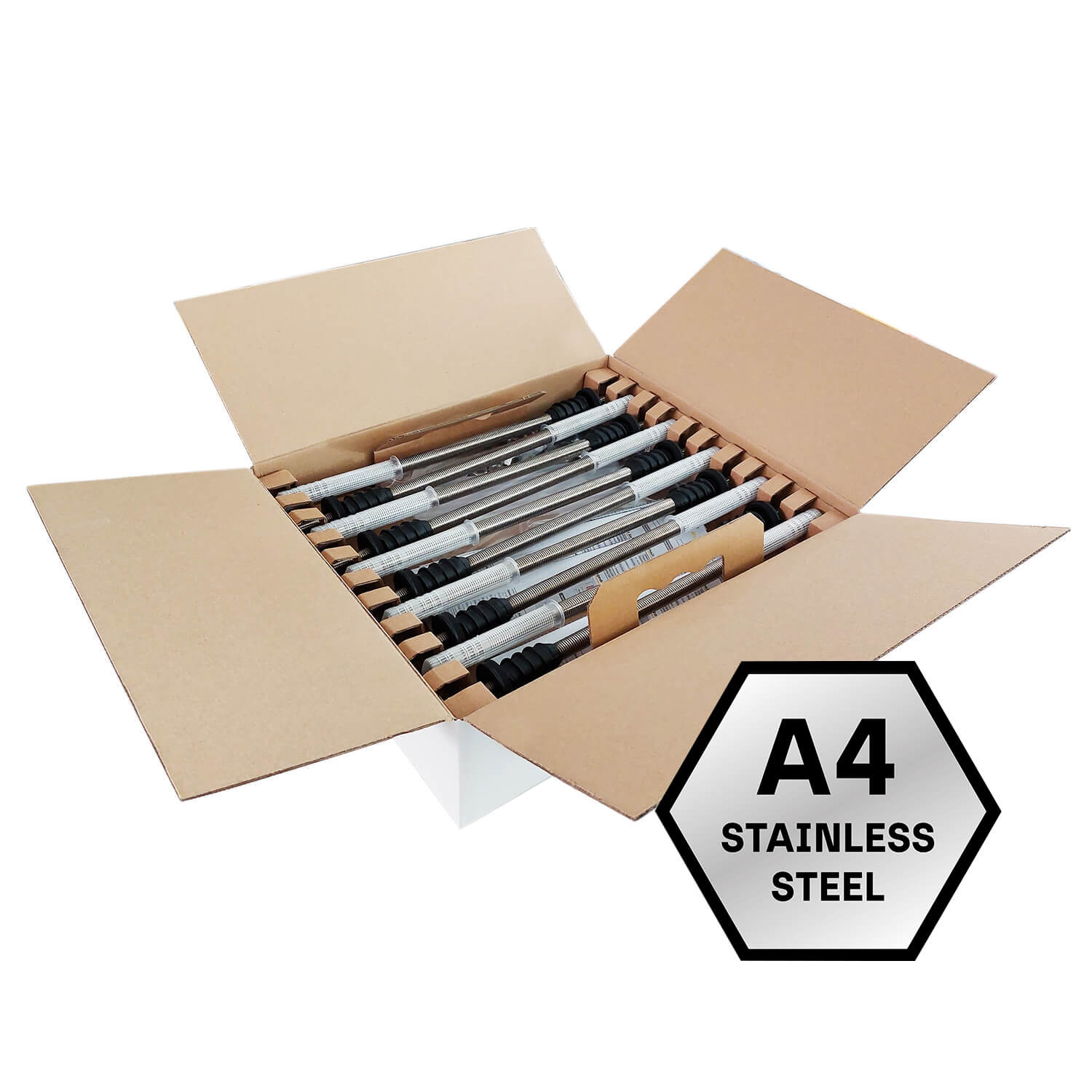 A4 stainless steel threaded rod
Learn more - download area
To learn more and discover our range of light-duty fixings for insulation you can download our Insulation Fixings leaflet here. 
Our technical support service is available to answer any questions you may have about approved distance installation with thermal separation in composite thermal insulation systems. Please contact us during our telephone hours or write to us.