Fixings and innovative solutions for pros at CELO
Injection mortar ResiFIX EP SF, Pure Epoxy
Designed for heavy loads in cracked concrete - Diamond drilling approved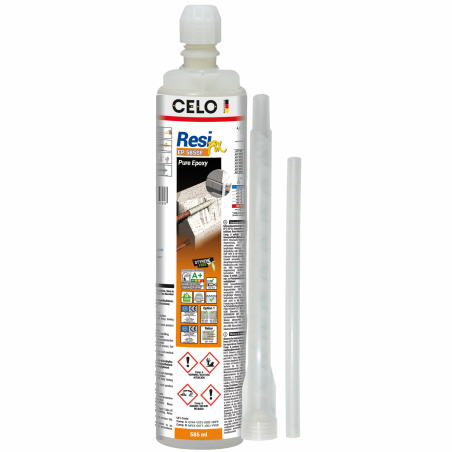 Product overview
The injection mortar ResiFIX Pure Epoxy EP SF is a special product for heavy-duty fixings in concrete. ResiFIX Pure Epoxy EP is ETA-approved for cracked and non-cracked concrete (option 1, M8 - M30) for a wide range of safety critical applications and reaches very high load values due to its excellent chemical resistance. It is therefore perfectly suitable for heavy duty fixings free of expansion forces of anchor and threaded rods, gate steel, square pipes, as well as bolts and screws of all kinds in concrete.
Show more
2
/
2 references are shown
Steel constructions
Cantilevers
Facade substructures
Machines
Guard rails
Canopies
Distance mountings
Window and door frame fixings
Wood constructions
Railings
Consoles
Key features:
ETA-Approval Option 1 expects at least 50 years of working life in cracked and non-cracked concrete due to extensive tests
ETA approved for non-cracked and cracked concrete (option 1)
ETA-Approval for post-installed rebar
Suitable in waterfilled drill holes
Emissions class A+ in closed spaces
LEED tested - Sustainability certification for environmentally friendly, low-pollutant, low-emission and sustainable construction products
Excellent chemical resistance
Marginal odour
Temperature range after curing -40°C to +72°
Thanks to the mixing nozzle extension it is possible to fill deeper drill holes.
Base materials:
Concrete
Natural stone
Hard concrete
Step 1
Step 2
Step 3
Step 4
Step 5
Step 6
Step 7
Step 8
Step 9