Clamps are very important in huge sectors like construction and Industrial, thanks to their different applications and, above all, to the important function they fulfill.
A clamp is a device used to join, fasten, and tighten cylindrical objects, such as pipes, tubes, conduits, cables, hoses, wiring systems.
In the following article, we invite you to discover more about clamps, what are the different types of clamps that exist on the market, and their main uses.
Uses of clamps
A clamp is a device that is used to hold one or more objects, such as cables or tubes. The clamp encircles or surrounds them. In other words, it could also be defined as a band that is rolled to form a cylindrical surface that is used to tighten connecting elements. Many times they incorporate a screw, whose main function is to close the band and exert pressure on the cylinder.
Application
There're two big groups of installations:
Electrical. Includes wiring but also communication, security/alarm…
Mechanical. Includes Plumbing, HVAC, gas piping, fire protection…
Types of clamps
There are several ways to classify clamps, either by their:
Application (relationship with the cylindrical element to fix)
Resistance – Type of closing
Material they are made of.
Size
Other specific requirements (noise reduction, pipe dilation, approval, fire resistance…)
The type of installation defines the type the other classifications needed for the application.
Clamp Resistance
Low resistance – Where the total weight is less than 1kg/meter. Often used in electrical conduit/pipes when protecting the cables
Medium resistance – Often seen in the HVAC sector for installing gas pipes. Although the pipes are only being used to move air the pipes have a bigger diameter (big metal/fiber conducts) so the clamps must resist bigger loads
High resistance. Plumbing requires strong clamps to hold big pipes with big water volumes inside.
Type of clamp closing
Open clamp – Really common in electrical installations because the resistance requirement is very low and they're faster to install
Self-closing clamps – Used in electrical and small plumbing installation, faster than screw clamps, resistant enough for these applications.
Screw clamps – These are the most resistant clamps but slower to install compared to other types. You need to remove and thread the screws each time that you handle the pipe/conduit.
Clamp material
In the last century we have seen a shift in the type of material being used in the production of pipes and with this change the type of materials being used in clamp production are also changing. Before pipes were all metallic, using materials such as lead, steel and cooper, but now, 90% of the pipes used in construction are made of plastic materials. The new lighter pipes meant that there was also a shift from metal clamps to plastic clamps in some markets, mainly seen in the electrical sector.
Plastic clamps – Used in electrical or small mechanical installation
Metal clamps – Mainly used in mechanical installation.
Stainless steel clamps – Installed in outdoor or aggressive atmospheres.
Clamp Size
Is related to the size of the pipe/tube/conduit that will be held and is also related to the type of application it will be used in.
Small size – Common in electrical but also in mechanical installation, mainly used in residential projects
Medium size – Mechanical installation like water supply and gas piping
Big size – HVAC installation or big hydraulics installations (water supply, drainage)
Other clamp requirements
Some niche market/application ask for specific features that the clamps must fulfill.
No electrical conductivity – In electrical installation, it is recommended that you use plastic clamps to avoid conductivity
Fire approval – For example protection systems demand an installation that can overcome fire tests.
Noise reduction – The plumbing installation has moving water inside and it's recommended to add rubber to reduce the noise transmission
Pipe dilatation – The plastic pipes dilate against the temperature changes and the clamps must allow this pipe movements.
ROHS/REACH/Halogen free – The norms are promoting a more ecological world and hazardous substances are being prohibited
Metal clamps
Metal clamps are used for highly demanding jobs, and their function varies depending on the type of clamp. Each of these clamps has a different pressure that will depend on the adjustment system and type of metal.
The choice of a metal clamp depends on different parameters, such as the pressure it can exert, the place where it is used, or the type of steel it is made of. Once these parameters have been reviewed, the choice becomes much easier.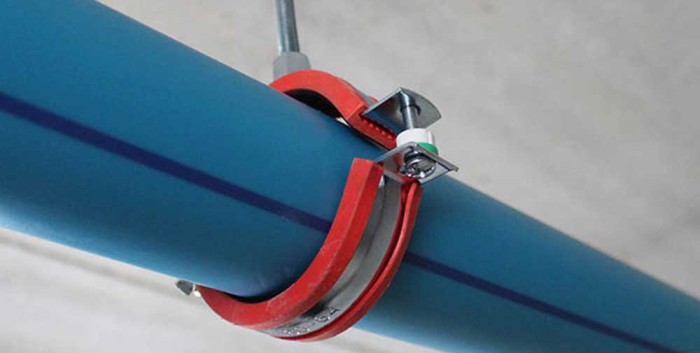 Screw clamps
The main use of a screw clamp is to surround and secure hoses. This type of clamps are made of stainless steel, so they are resistant to corrosion, oil, and grease. Once in place, the screw can be hand tightened with a screwdriver. The great advantage of this fastening system is that most screw clamps can be reused without any problems.
There are many models of screw clamps, each with its purpose. The only thing they all have in common is the screw that is used to fasten them. Screws are used as a method of fastening items as once set into position, they require a large amount of force to accidentally loosen.