AMAZON's new logistic center uses the BTS-6 anchor screw to fix all its hanged channels direct to concrete.
The construction of the spanking new AMAZON Logistic Center represents an investment of more than 1,200 million euros and covers an area of 63,000 square meters located in the Industrial Area Mas Blau located near the airport of Barcelona.
To fix the roof hanged channels there's been picked up a rod threaded to the head nut of the screw. The screw anchor with incorporated nut M8 enabled to fix it directly to the concrete.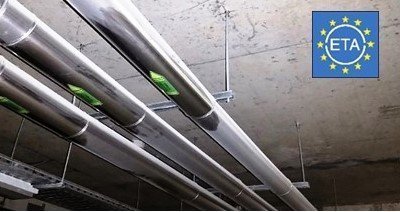 The BTS-6 concrete screw is quick and easy to install, it only requires a pre-drill using a 6 mm drill bit and screwing directly into the concrete. The special hardness of the screw creates its own thread in the concrete achieving greater resistance to vibration and pull off. It is also CE approved for multiple uses in non-structural installations in cracked and uncracked concrete.
In addition, it also permits the fixation with two kinds of embedment: the basic of 50 mm, and the specific of 35 mm for thicknesses in which a minimum hole is required to avoid the forging. The 50 mm recess supports 190 kg traction loads and 35 mm recess supports 85 kg loads. Special coating with aluminium zinc sheets that guarantees a corrosion resistance of 240 HNS.
Using the "drill & fix" adapter kit, the installer can drill and screw using only one hand and the same tool.