Medina - La Meca, Saudi Arabia
Apolo Fixings at the heart of the Western railway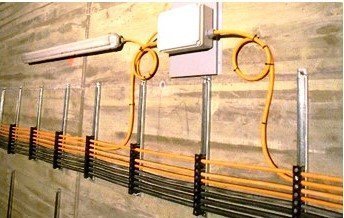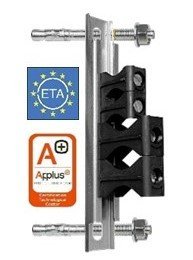 Apolo Fixings has contributed to the Haramain high-speed rail project by providing all channels and clamps used to fix communication, signaling and low voltage cables of a 453-kilometre-long (281 mi) high-speed inter-city rail transport system that link holy cities of Medina and Mecca. Thousands of Kilometers of cable fixed with Apolo Multitub System along the train track ensuring the safety of the cables throughout the whole railway, which line is planned to provide a safe and comfortable transport in high speed electric trains that will reach the 300 kilometers per hour (190 mph). The resistance to temperature gap, sand storms and train vibrations of deserted environments was considered essential for the decision and Apolo provide approved fixings that guarantees the performance in such rough conditions.
Approved fixing system resistant to the temperature changes, sand storms and the train vibrations.
Furthermore, to fix the PTT multitub profile they picked the CE approved wedge anchor BA plus and the MTT multitub plastic clamps which provide a quick installation to the profile.
The Multitub clamp allows to install a large number cables in parallel optimizing the space. The main advantage of the Multitub system is the possibility to expand the installation adding pipes and tubes without new fixings. Only by clipping the MT clamp to the existing profile the installation is expanded quickly providing also cost efficiency.